David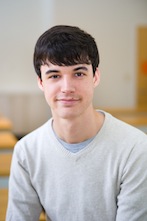 David
Political Science
Education
Raytown High School in Independence, MO
Organizations
National Society of Collegiate Scholars, Pre-Law Club
What attracted you to SPECTRA?
What attracted me to the SPECTRA program was its emphasis on modern day science and math. I know that those fields are changing all the time, so learning newer things is very exciting. Along with that, SPECTRA was designed to show how math and science work together to solve bigger problems, which I thought would be awesome to learn about.
What do you like best about SPECTRA?
The thing I like best about SPECTRA is how practical everything it teaches is. I have applied a lot of what I have learned in the class for SPECTRA in my other classes.